Soldering Iron ERSA Multi-TC
Soldering Iron 75 W
Artikelnr. 0760CD
---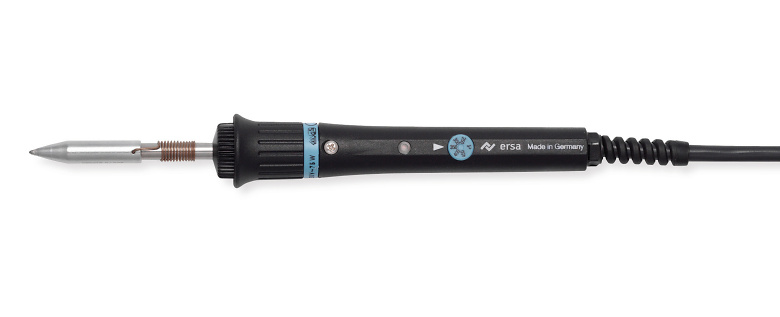 ERSA Multi-TC Power Soldering Iron with Temperature Control The ERSA Multi-TC is a powerful, sturdy temperature-controlled universal soldering iron with a precise temperature sensor located directly under the internally heated soldering tip. This temperature sensor registers the actual temperature in the immediate vicinity of the solder joint. The heating system can then immediately react to the heat loss and reheat extremely fast. The high preheating power with the internal PTC heating element provides unusually fast heating The high heating efficiency and the large selection of soldering tips and inserts serve both filigree applications in electronics and applications with standard soldering irons with power up to 150 W. Examples are classical lead glazing and Tiffany methods. By dispensing with a heavy transformer and thanks to its heat-resistant connecting cable, the ERSA Multi-TC is especially suitable for mobile use in service, maintenance and repairs. The Multi-TC soldering iron has an ERSADUR soldering tip (0842CD) and a holder (0A18).
| | |
| --- | --- |
| Voltage: | 230 V |
| Effective power: | 75 W |
| Tip temperature max.: | 450 °C |
| Heat up time: | 35 s |
| Weight: | 307 g |
| Antistatic: | no |
| Soldering tip replaceable: | yes |
| (De-)Soldering Tip (incl.): | 0842CD |
| Shape soldering tip: | chisel shaped |
| Coating: | long life tip |
| Diameter soldering tip: | 2,2 mm |
Bestellung
Preis pro Artikel
exkl. MwSt.
179.00 CHF